Teeth Whitening Gel Pods - 10 Treatments with Hydroxypatite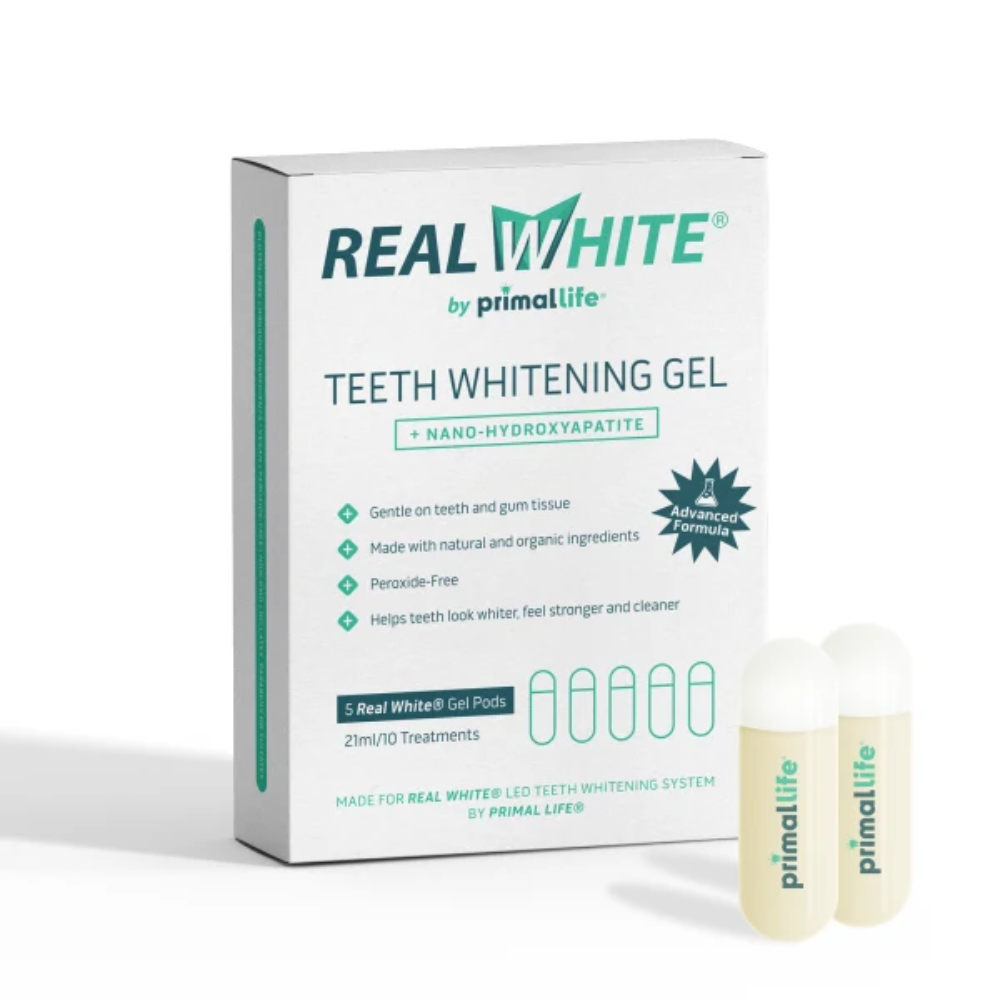 Teeth Whitening Gel Pods - 10 Treatments with Hydroxypatite

100% Guarantee

Dr. Shippy Approved
Description
NEW AND IMPROVED! New formula is twice as effective for faster and longer-lasting results!
Bye, bye painful peroxide... hello hydroxyapatite, PAP, light therapy, and a healthy, white smile!
Strengthen your teeth while you're whitening them! We combined hydroxyapatite (HAp), Phthalimidoperoxycaproic acid (PAP), white activated charcoal, clay, olive oil with essential oils to erase the stains on your smile, detoxify your mouth, and remineralize your teeth all at the same time! Hydroxyapatite is a mineral that occurs naturally in teeth and bones and plays a role in helping keep your teeth strong and white.
Hydroxyapatite can help protect your tooth's outer layer, prevent demineralization, and rebuild tooth enamel. Every ingredient used in our natural whitening gel was chosen not only for its effectiveness in whitening your teeth but also to make your teeth healthier and stronger. Our whitening gel is free from peroxide, bleach, and chemicals, and instead, contains only natural ingredients that whiten and strengthen your teeth:
Hydroxyapatite - natural occurring minerals in your teeth to make your teeth stronger PAP - a strong stain remover that won't damage the enamel Olive Oil - Soothing, whitening, and vitamin-rich Mineral-rich bentonite and diatomaceous earth clays - to strengthen your teeth and keep your gums healthy Cleansing and whitening essential oils - that help remove bacteria on gums and teeth, promote fresh breath, and whiten teeth. Feel the difference our blend of natural clay, essential oils, and hydroxyapatite make.
Your tongue won't be able to resist gliding across your clean, stain-free teeth, with a smile so bright, you'll need shades! Get noticeably whiter teeth in a matter of days! Warning, may cause the urge to take a lot of smiling selfies to see your new, sparkling white teeth!
Ingredients
Our Real White Gel is made with the whitening power of extra virgin olive oil, hydroxyapatite, 15 essential oils, two different clays, and charcoal to intensify your bright smile. Olea Europaea (Extra Virgin Olive) Fruit Oil*, Solum Diatomeae (Diatomaceous Earth) Clay*, Bentonite, Phthalimidoperoxycaproic Acid (PAP), Mentha Piperita (Peppermint) Oil*, Nano-Hydroxyapatite, White Activated Charcoal, Methyl Salicylate (Wintergreen) Oil*, Mentha Viridis (Spearmint) Leaf Oil*, Melaleuca Alternifolia (Tea Tree) Leaf Oil*, Eugenia Caryophyllata (Clove) Bud) Oil*, Citrus Medica Limonum (Lemon) Peel Oil*, Cinnamomum Zeylanicum (Cinnamon) Leaf Oil*, Commiphora Myrrha (Myrrh) Oil*, Lavandula Angustifolia (Lavender) Oil*, Eucalyptus Globulus (Eucalyptus) Leaf Oil*, Cupressus Sempervirens (Cypress) Leaf Oil*, Anthemis Nobilis (Chamomile) Flower Oil*. *Certified Organic
*These statements have not been evaluated by the Food and Drug Administration. This product is not intended to diagnose, treat, cure, or prevent any disease.