Laundry Additive - EC3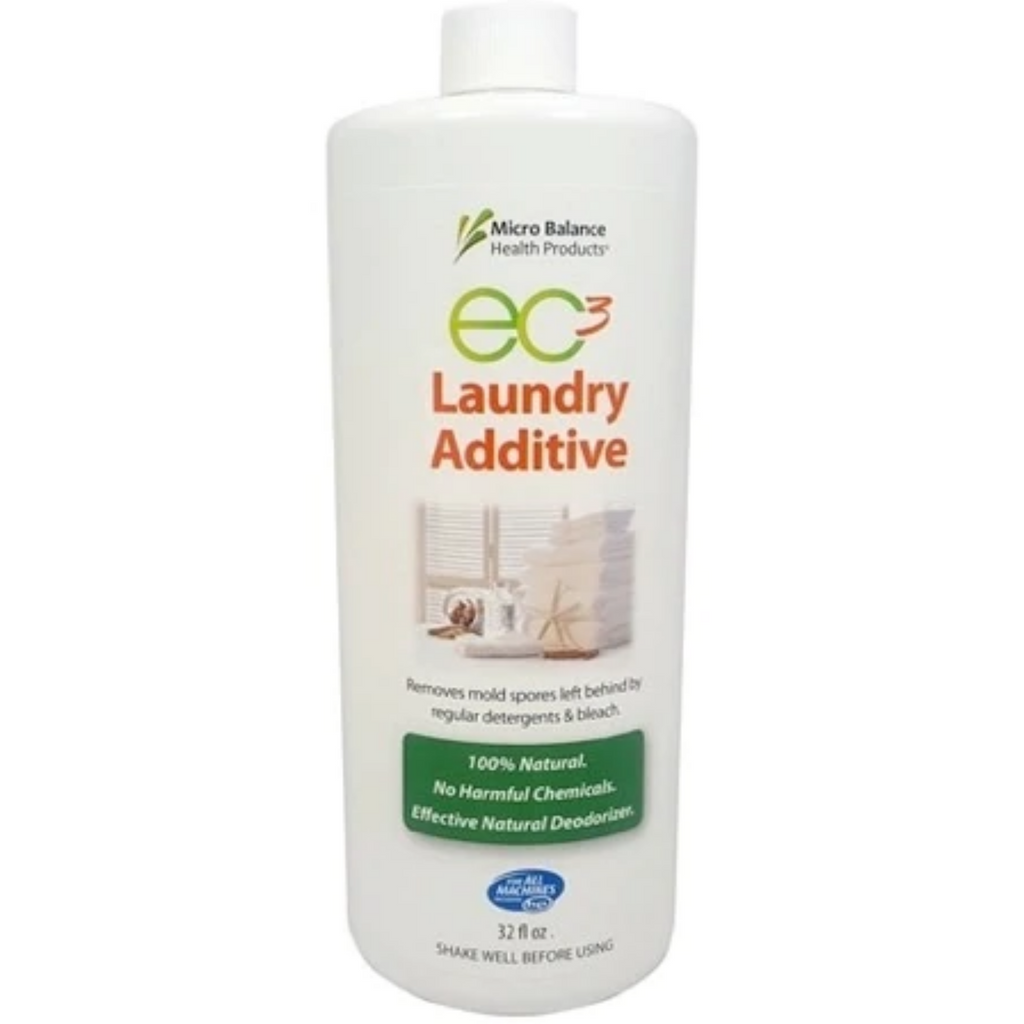 Laundry Additive - EC3

100% Guarantee

Dr. Shippy Approved
Add EC3 Laundry Additive to every rinse cycle or directly to the wash basin to rinse away mold spores, bacteria, and foul/musty odors from clothes, towels, and your washing machine.
Key Features and Benefits:
-Use during wash cycle to remove mold and bacteria from clothing, towels, linens, and athletic wear
-Contains "food-grade" citrus seed extracts, tea tree oil, and natural surfactants to clean away mold spores and foul odor-causing bacteria and yeast
-All Natural - No Harmful Chemicals - 100% free of metasilicates, caustics, chlorine, ammonia, and phosphates
-Helps to maintain a mold and bacteria-free washing machine
-Use with other EC3 Products to maintain a healthier home
-Safe for all regularly laundered fabrics
Rinse Away Bacteria and Mold Spores from clothes, linens, and towels: 
EC3 Laundry Additive rinses away bacteria and mold spores that get trapped in your clothing and other fabrics that regular washing alone doesn't eliminate. Stop wearing mold on your clothes and carrying it with you right under your nose, wherever you go.  
Going to bed each night with moldy sheets and pillowcases can cause allergy symptoms and poor sleep quality.  Night sweating and the shedding of dead skin cells also contribute to mold growth in linens and pillowcases. 
EC3 Laundry Additive tackles this problem and also removes odors from musty and sweaty gym clothes.  When sweat meets bacteria and/or mold on your skin or clothing, putrid odors result.  Unfortunately, people often mistakenly try to use fabric softener to eliminate these odors but doing so only adds chemical fragrances and masks the problem. 
Clean is actually the ABSENCE of smell.  EC3 Laundry Additive gets your washable fabrics clean by rinsing away the mold and bacteria that create the odors in the first place.  
Maintain a Mold-Free Washing Machine:
EC3 Laundry Additive helps maintain a clean and odor-free washing machine, especially high-efficiency front-loading machines.  Front loaders can trap residual moisture and fabric softener, fostering a moldy environment after each load.  Clean your clothes, linens, and washing machine with EC3 Laundry Additive and improve your health.  
Add 2 oz. into rinse cycle reservoir (softener) for every regular wash cycle. Safe for all regularly laundered products.
LAUNDRY IN HE WASHERS - Add one (1) ounce of Laundry Additive to the rinse cycle reservoir (where you normally add your fabric softener) of your washing machine for every regular wash cycle.
LAUNDRY IN OTHER WASHERS - Add two (2) ounces of Laundry Additive in the same manner as above.

TO CLEAN WASHER - Add three (3) ounces into the bleach well or into the body of the machine and select the CLEAN cycle on your washer.

This product should be used in addition to your normal detergent or bleaching agent. EC3 Laundry Additive is safe for use on all washable fabrics, and is free from all harmful chemicals, synthetic perfumes or dyes. It works with all HE appliances.
*These statements have not been evaluated by the Food and Drug Administration. This product is not intended to diagnose, treat, cure, or prevent any disease.